| | | |
| --- | --- | --- |
| Welcome | | You are not currently logged in. |
| | | |
| --- | --- | --- |
| | | |
| | | |
| | | |
Dear Sisters and Brothers,
This week CWA is featuring Wilbur Ross, Donald Trump's nominee for Commerce Secretary. Ross is noted for, FIRING WORKERS AND BUSTING UNIONS!! Ross "squeezes every last nickel out of [companies] by firing workers and shipping business lines offshore, and manages to profit in the exchange, usually by navigating the companies through bankruptcy."
[The Nation, 11/30/2016]
PLEASE, PLEASE!! TAKE 60 seconds out of your busy day to make a call, for your future and ask Senator Corey Gardner and Senator Bennet to block Ross!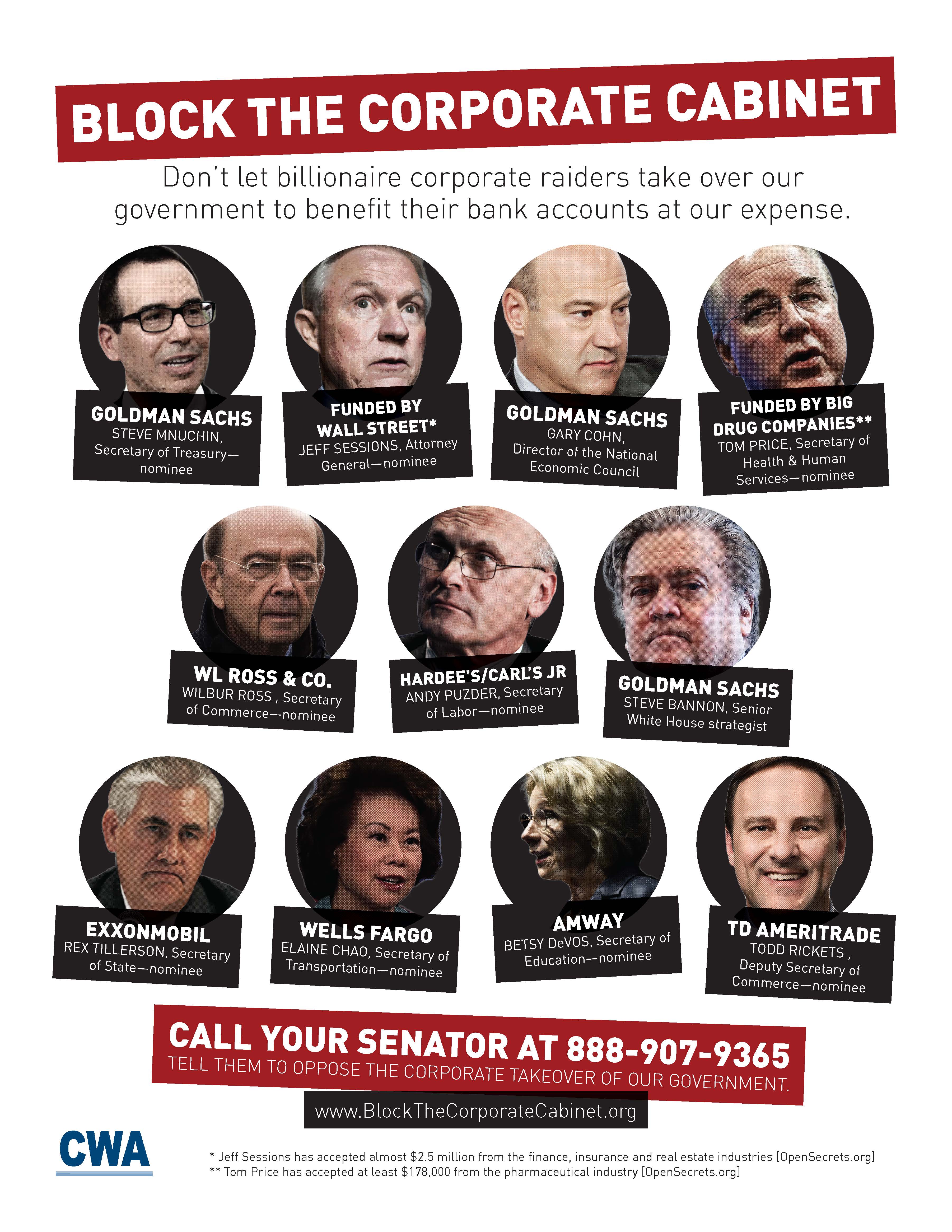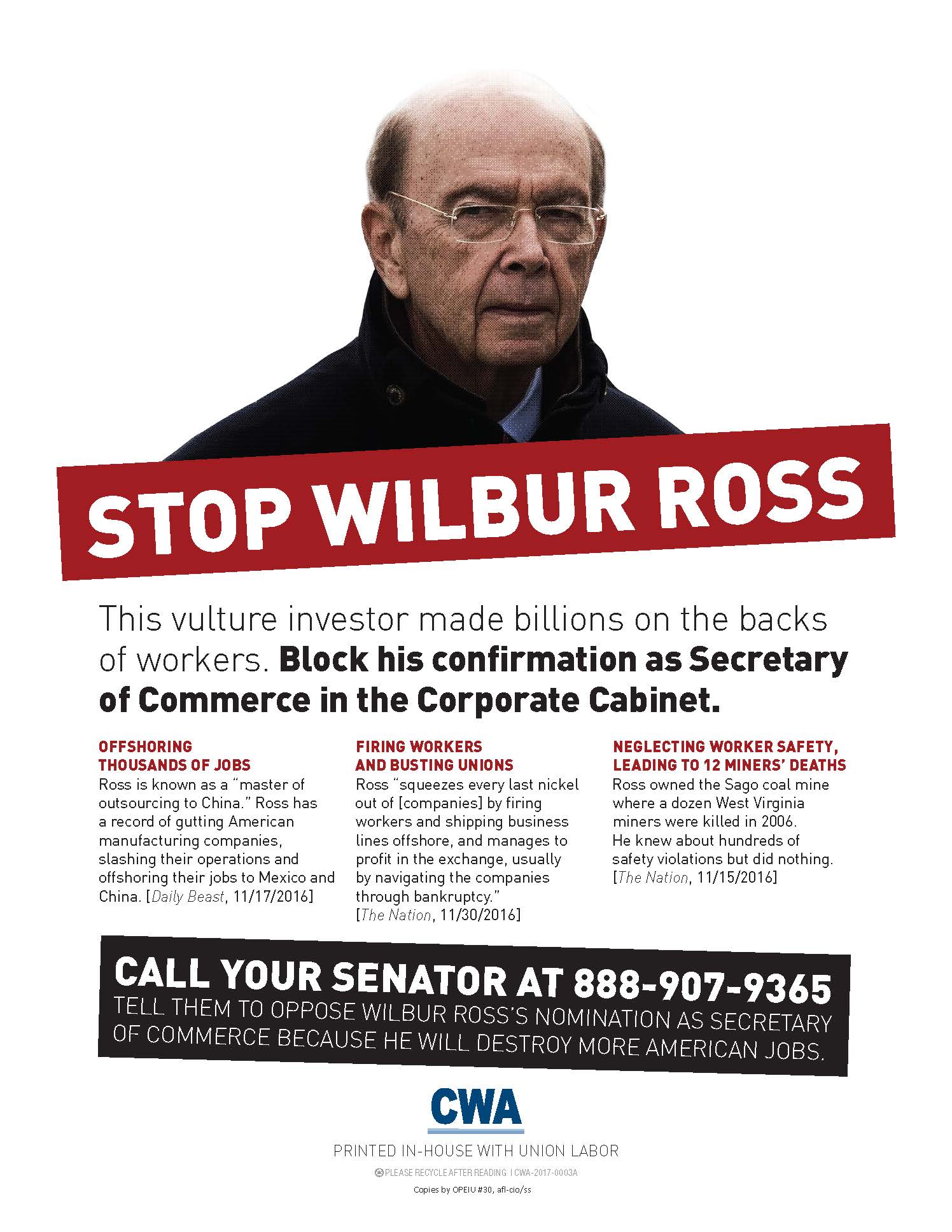 Happy New Year Sisters and Brothers,

I hope everyone had wonderful Holidays.
On to the New Year of 2017, which I believe will be challenging on many fronts. CWA will be addressing a few of the President Elect 1% Elite cabinet picks in the month of January. The first Cabinet pick we are featuring is Tom Price, Trump's pick for Secretary of Health & Human Services. For years big drug and Insurance companies have supported Price along with their combined mission to END Medicare and force seniors to purchase health Insurance on the Private Network, despite years of paying into Medicare. The Big Drug and Insurance companies are hoping their investment into Price is about to pay off!
Now Sisters and Brothers it is up to us to try and stop this appointment. Please contact Senator Cory Gardner at 888 701-5344 and ask him to OPPOSE the nomination of Tom Price for Secretary of Health and Human Services. Every call counts. His office will tally the calls received and that is sometimes what determines on how he will vote. We must keep the pressure up! Remember a stroke of a Legislators pen can take away any contracts we receive!!
Important Upcoming Events:

January 11th (Wed) 10:00 AM- Colorado State 71st Legislative Session convenes at the Capitol, 200 W Colfax Denver, 2nd floor

January 16th (Mon) - Martin Luther King Day Parade (Marade) - CWA 7777 is trying to get the Hot Chocolate booth set up again.

New this year, the AFL-CIO has an entry in the Marade. Their message - We need a strong showing of support going into the Trump administration. Please bring members and your family along. When we receive the line up of the march, we will let you know where to meet. Please color up (as best possible with the weather). Bring lots of layers - it could be 63 degrees or negative 5. Who can predict the weather in Colorado?

January 21st (Sat) 9:00am-3:00pm - Million Woman March in Denver - women of labor and the men who support them, please come rally against the Trump presidency the morning after the inauguration.
Sheila Lieder
Communications Workers of America (CWA) 7777
Legislative Political Director
720 314-2935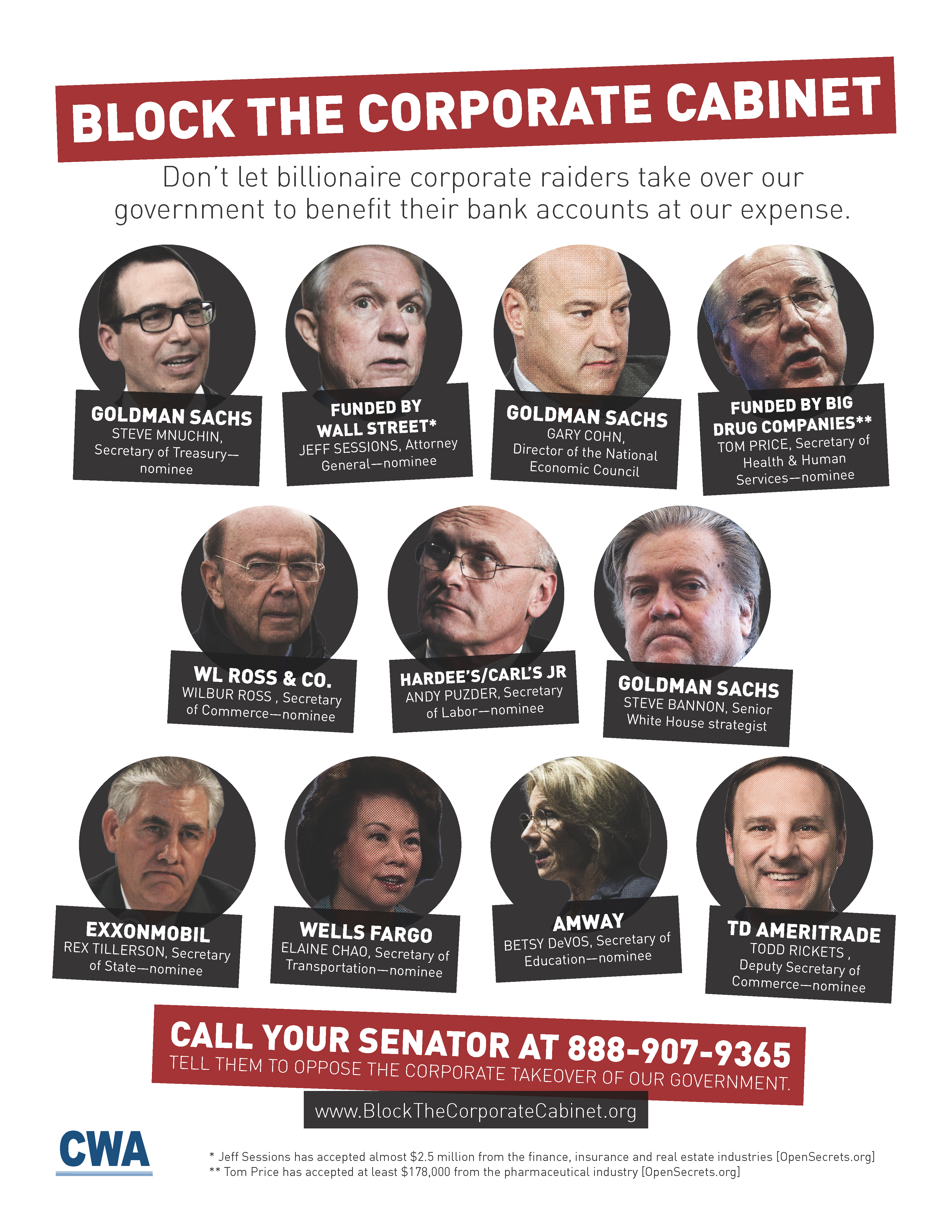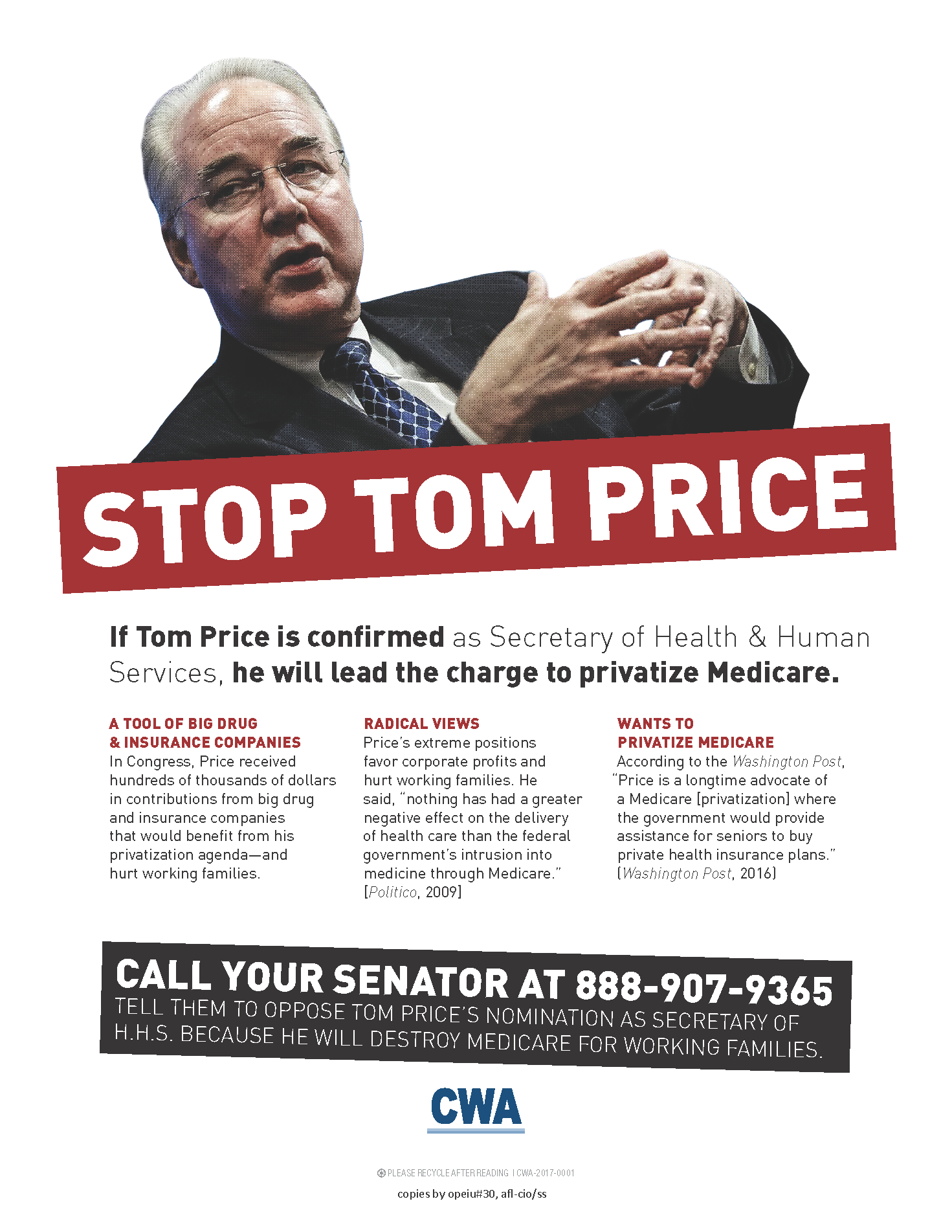 Please share this information with fellow CWA members, family and friends. Ballots were mailed from your county clerk on Monday, October 17th and should be arriving in your mail box any day now. You may have already received it! Please verify that your ballot was accepted. We are receiving reports of rejected ballots. Track your ballot Read More...
Call Congress 1-888-907-9365 on Wednesday, September 14th. Read More...